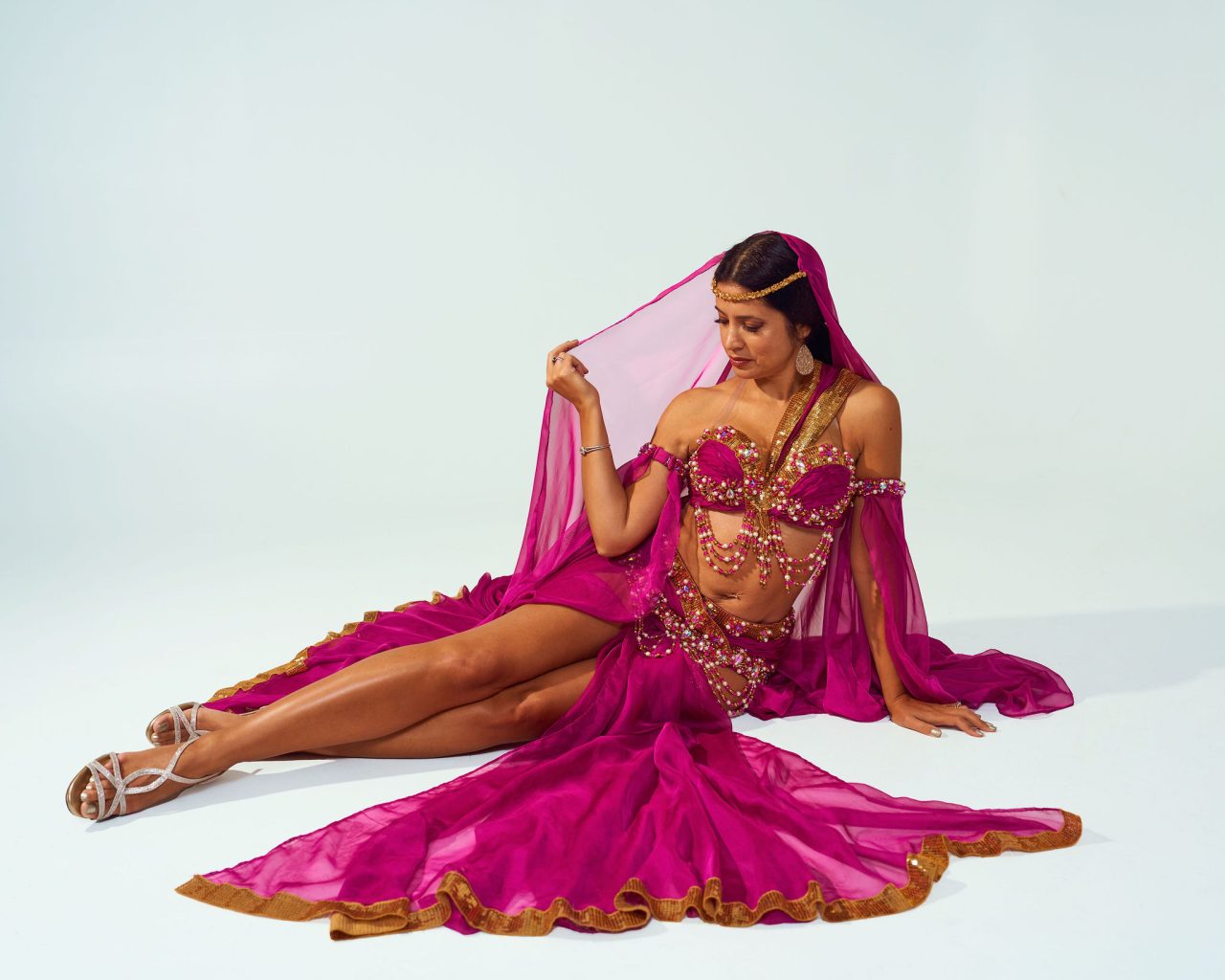 Hello and Welcome to Beautiful Bellydance!
February 16, 2023
It's about time I start getting my thoughts out about my career as a professional bellydancer. Before I begin describing how I got started, I think it's much better to describe what I would like to bring my readers. Maybe you are thinking about starting your journey into the bellydance world, or are already a professional bellydancer interested in my experiences. Perhaps you are simply curious about this art form, or maybe you are a bride looking for an elegant bellydancer to perform at your wedding. Whatever the case may be, this blog is coming from a place of my personal experience in the world of bellydance. Clarity and authenticity in my ideas on this blog will reflect the clarity and authenticity I strive to present in my dance at each and every performance, in my studies during classes and in my regular practice.
Assuming you already read my bio, you will know the highlights of my lengthy career as a professional bellydancer.  I couldn't tell you my life story in my bio, so the blog is a wonderful place to get to know me on a deeper level.  I will be exploring aspects of this dance that inspire, move and challenge me.  I will talk about the personal and profound journey of healing the physical and spiritual bodies and the many layers of myself that have been uncovered through this dance.  You will read about my travels to Egypt, to feel the energy, learn the nuances, hear the music and study this beautiful art form in its homeland.  The ever evolving and super particular search for the next costume - colors, styles, fabrics, textures, cuts, bra shapes, designers and pricing.  The other side of buying costumes would be selling costumes, trading costumes and purging the closet, to you guessed it…make room for more!!!  Of course I will write about music and be sharing songs that inspire me and break my heart open to the field of creation.  How about makeup, stage makeup, hair, grooming and all the time it takes to simply get ready for a performance? 
There are two sides to every coin. Life as an artist isn't just living in the creative world and turning our emotions into something physical. In the personal realms, I'll dive into my life as a mother and entrepreneur and how it balances my artistic life. The day to day life of family commitments and my adorable Puerto Rican rescue dog, whose name is Magic. A big part of who I am is honestly what I look like - let's be real… people want a healthy looking and beautiful dancer to watch during a show. How does a professional dancer stay in shape? What type of work out routines are implemented to keep my body in good shape? What types of foods do I eat that give me adequate energy to run around gig hopping and won't drain me of my life force?
How about mental health? What's it like to go on stage to be the center of attention in a room filled with strangers and pour my heart out to music that you hope they like. What types of practices keep me with a clear mind so that I do not get clouded by other people's opinions of what they think I should be doing in my performances and dance life - because as a public figure, there are many people who feel they can freely offer their opinions, which does not always come across as nice or kind. Do I get nervous before I perform? What exactly do I do to calm down when the nerves hit before a show? Does that happen before every performance? What is it like to perform in front of your dance peers? What is it like to perform in front of your teacher? What about performing in front of your teacher and his teaching team in Egypt? What's the difference between performing at an event like that, at a wedding, at an Arabic nightclub, restaurant or hookah lounge?
If you have seen bellydancers perform, you will know that many times we will dance with props. Bellydance props are widely varied - we have wings, veils, swords, candle trays, canes, fire fans, fire sword, poi, poi veils, light up LED wings, fan veils, light up LED fan veils and MANY more - with more to come in the future. Bellydance props are forever evolving. We, as dancers and performers, need to master the props, as we master our dance and express the music as it needs to be expressed. How do I go about learning the different props and get the guts to perform in front of a crowd on something I've never done before? Where exactly do I buy my props?
You may have first found me on Instagram or took a peek at my extensive photo gallery. I have many years worth of professional photo shoots with multiple photographers in several different countries under my belt. There was an immense amount of preparation work behind each and every one. Makeup, hair, styling, expression, mood are only some of the things to take into consideration when prepping for a photoshoot. We will deep dive into the process of professional photo shooting for bellydance and for fashion.
Bellydance, to me, is not just a shimmy or a hip-drop to Arabic music. There are years of dedication to learning the culture, the song lyrics and the way to express the wide array of emotions contained within each and every song. I've studied with many different teachers, and each teacher has their own style and way of interpreting the music through their own unique expression. As someone who is not a native to the Middle-Eastern cultures, it is of the utmost importance for me to approach my dance with interest to the roots of where it comes from. Respect towards the folklore origins and reverence to the process of evolution in the art of bellydance for stage and weddings is a thread that is weaved in my performances and interpretations. I chose a profession where I perform in front of hundreds of different audiences from a wide array of different Middle-Eastern countries, each of them having their own individual culture and mannerisms. A true professional bellydancer MUST know and be able to differentiate between the styles of music from every country in style, form, instrumentation and rhythm. There are different styles of dance for the different styles of music. In other words, not every song should be done with the same gestures, movements and style. I literally do not speak Arabic, but yet I need to be able to understand each song, the meaning behind it, how appropriate it is to perform at the specific event (wedding, corporate party, stage show, bellydance festival). These are just a few of the considerations an experienced and successful bellydancer of ethnic audiences needs to take into account.
You can see the passion in all the finely tuned details I put into all of the moving parts of this dance voyage I'm on. This dance wakes me up in the morning, it keeps me breathing throughout the day and it speaks to me in my dreams. I am inspired to stay in my heart when I'm thinking about the art form, studying new music, learning dance techniques and styling in the classroom, looking at new bellydance costume designs and watching other dancers and what they bring to the stage. It is through this process of meeting my own reflection in all of the above elements that I am able to weed out all of the excess noise, disruptions and disturbances of what doesn't resonate for me in my own journey that gives me my own unique and individual essence as a dancer, performer and artist. We can say this is true for whatever it is that we do, but only if we have to courage and capacity to sit with our own discomfort as we meet the parts of ourselves that are asking to be heard. The best versions of ourselves are created when we allow ourselves to be completely vulnerable to all the thoughts and emotions that come up with honesty, curiosity and integrity and when we start asking questions to those deep parts of ourselves. I've learned this very important method is the specific process it takes to evolve, not only as a human being, but as an artist. Through letting go and chipping away at some ideas of who we were taught we need to be, we can transform our lives and reap long term benefits for our overall well-being.
Basically anyone can put on a sparkling costume and shimmy here and there and call themselves a bellydancer, but it takes experience, years of dedication, love and commitment to refining not only your movements, but your entire well-being to be a long term contributor to this art form. Thank you for reading this far into my very first blog post! I look forward to sharing more in this space in a very real and authentic voice.
Warmth and gratitude,
Yasmeena