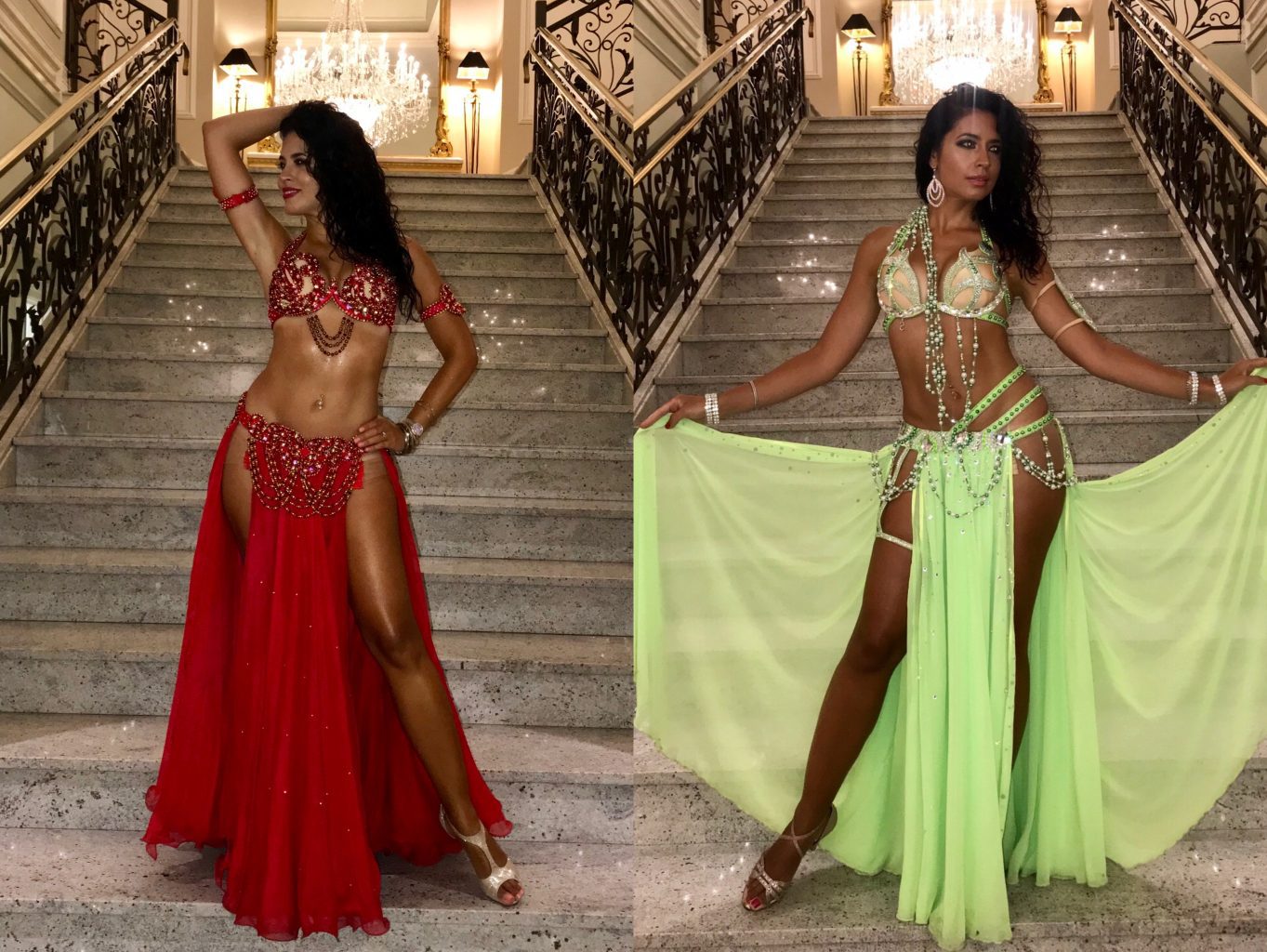 Let's talk about bellydance costumes!
March 14, 2023
Constantly staying fresh and in fashion is an ideal that I hold myself deeply responsible to in my career as a professional bellydancer. With this, I watch and take note of the trends in costuming design as they hit the scene and make a mark, then gracefully exit the stage as the next big trend starts to make its way to the center. Just like with the runways of Milan and Paris, the bellydance stage goes through changes, modifications and styles at its own unique pace.
I usually like to look at some styles from my favorite designers, who happen to all be based in Cairo, Egypt. They usually post on their Instagram and Facebook stories, and when I am in the right mood, I will sit and scroll, knowing that I might fall in love with a design that just casually happens to be my size. Usually I have in mind what I would like - most of the time it's a certain color that I'm looking for - but not always. It's important when shopping in this way that I am completely open to what is available, because with their levels of creativity, the designs are constantly evolving and surprising me in exciting ways.
I have to take many things into consideration. Firstly, I spoke about color. Audiences remember what color the dancer was wearing more than anything else. This is why it is absolutely imperative that I have a variety of colors to rotate in my costume closet. If I have multiple costumes in the same color, my audiences are likely to think I am just wearing the same costume at those shows and I can lose the element of surprise very quickly. I also happen to be a very sensitive person and my mood is definitely affected by colors. Sometimes I want to choose the color based on how I am feeling - if I have many costumes in the same color, this will limit how I can express myself. As an artist, self - expression is of the utmost importance and the most practical way for ME to make a statement without words is through the use of color.
Sizing is absolutely another crucial point to consider. The bellydance costume is usually photographed on a mannequin and listed for sale. I can only assume the costume might be my size - but through a photograph on a mannequin, it's not always easy. If I love it enough, I will directly message the designer and inquire about price and of course, if that specific costume will fit me. My most important question (besides price) is if the bra will fit or not. The ready to wear sale items are NOT custom made, and if it's too big or too small the proportions will look wrong and I will be very uncomfortable dancing in it.
The next pivotal question to ask is, "How much?". Each designer has different price range specific to their business. Depending on who I am buying from, the prices can range anywhere from $450 USD - $1200 USD for one design. Knowing this, you might think it's insane to pay this much, but keep in mind they are fashion pieces that are studded in rhinestones, mirrors, glass beads, fringe, etc and designed by an artist who has a deep understanding of the dancer, the feminine figure, the culture and the stage. Quality is high and each item is completely crafted by hand.
After my final decision is a "yes", money needs to be sent internationally, the shipping needs to be coordinated with tracking numbers and customs and then … I wait … as patiently as possible. Normally I'm daydreaming of what this costume is going to look like on me, where I will wear it, how I'm going to style it, which wings are going to match it, what music I will use dancing in it and countless other ruminations. Sometimes the costume gets stuck in customs and other times it gets completely lost and magically arrives at my house. Either way, thankfully I always received my costumes - even if there was a 6 week delay "due to covid".
The doorbell rings, I sign for it and rip open the packaging, try it on and … it doesn't fit. The straps are too long, the bra is too open, the waist is sagging and I think to myself, "Ok, this isn't too bad." Luckily, this is completely normal and the designers already have a plan to get the costumes to fit on a wide array of body types. There are multiple hooks to adjust the size, elastic pieces inside the hems that are easy to shorten and other tricks of the trade that will get the bellydance costume to fit like a glove. Since I cannot do my own alterations (I simply do not have the skillset), I immediately call my expert seamstress and arrange a fitting with her.
This is the story of how many (not all) of my couture designer bellydance costumes come to me.  My latest two designs were sent to me from Cairo, Egypt.  Just as the story states, I saw an Instagram story, inquired, questioned, sent the payment and there were shipping issues.  It was pretty interesting this time around, because my tracking number said the delivery date would be on a Tuesday, and magically the costumes arrived 5 whole days earlier on the Thursday before, lol.
With my dog, Magic, barking at the DHL guy, I quickly sign for it and take it inside to open it. I was so happy to see the DHL plastic packaging with the photo of the Ancient pyramids of Giza (I literally think this is super cool). I carefully open the plastic wrap to find two costumes gently placed inside a garment bag. I open it, and there they are… colorful and sparkly. I couldn't decide which one to try on first - after a quick deliberation, I reached for the two piece. The skirt was a slam dunk fit. I felt feminine and sexy. However, when I put on the bra, it had some sharp edges that dug into my armpit, making it completely impossible to move in it. To this day I don't know how I'm going to resolve that crazy issue - I'll worry about that later, the excitement is too much to kill with practicalities. The second costume was too long and had another issue with the zipper. Another issue that I will worry about only after I pay a visit to my seamstress for a fitting.
Will I wear these costumes for my weekend gigs? No, not yet. There are a million things that need to happen before the costume even hits the lighting of the stage. Not only do I need to get it fitted and adjusted by an expert who knows specifically how to adjust bellydance costumes (which also adds money to the cost of the dress), but I need to whirl around my house and practice dancing in it. I need to understand how to move, what to do, what not to do, what looks best and how to accentuate the design through movement (to name only a few). Are there any malfunction hazards I need to take note of? That is especially a super important concern!
This ready to wear fashion for dance couture design is a risky business. I only glanced over the fact about the pricing. The reality is that it's a LOT of money to spend, especially because it takes multiple weddings to pay for one costume (depending on the level of costume you buy). It is NOT GUARANTEED the costume will fit. I still need to have a trusting relationship with the designer that what they say is actually what I will receive (I've been on the negative side of this situation) because it's not like if I can just try it and and return it if it doesn't fit or if I don't like how it looks.
I, thankfully, have come to the point in my career where I have cultivated a strong relationship with the designers I choose to work with. This means that I have met with them multiple times (either in Cairo, Egypt when I am studying dance, or when they are in USA with their latest design collection at a bellydance festival). They know my size, my proportions, my style, my dancing and how I present myself to my audiences. I can pretty much ask them anything and I trust that they are doing their best to meet my needs. They know I am a professional dancer and videos at elegant weddings will surface where the costume will be highlighted. I will also likely have a professional photoshoot in the costume for my portfolio, and I will send the photos to the designer as well so they can see how lovely the costume is and be inspired to create more. Only through my experience in working with many designers, from many different countries, have I refined my taste and my personal style to reflect exactly what I aim for my dance. Of course, the refinement will evolve over time as new styles and trends hit the market. Some trends I will adopt, others I will pass. Most importantly, I will commit to my own unique authentic voice in my choices for my bellydance performances.